Stock Information
Stock Information
As of end of September 2023
Total number of authorized shares
248,000,000
shares
Total number of shares issued
121,000,000
shares
Number of shares of treasury stock
11,091,707
shares
Trade lot unit shares
100 shares
Number of shareholders
54,586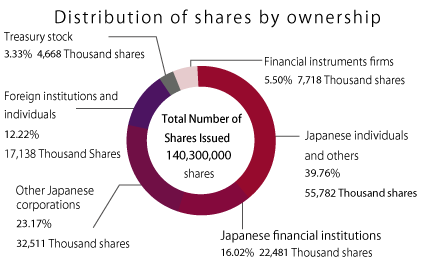 Major Shareholders
Name of shareholders
Shares held number
(thousand)
Shareholding ratio
(%)
General Incorporated Association Murayama Asset Management
25,633
21.18
The Master Trust Bank of Japan, Ltd. (for trust account)
11,992
9.91
MIRARTH HOLDINGS, Inc.
11,091
9.17
Morgan Stanley MUFG Securities Co., Ltd.
4,593
3.80
Custody Bank of Japan, Ltd. (for trust account)
3,334
2.76
Murayama Kikaku Co., Ltd.
2,000
1.65
RUDEN HOLDINGS Co., Ltd.
1,820
1.50
NORTHERN TRUST CO. (AVFC) RE FIDELITY FUNDS
1,707
1.41
MIRARTH HOLDINGS Business Partner Shareholding Association
1,481
1.22
Sumitomo Mitsui Banking Corporation
1,184
0.98
Basic Policy on Profit Distribution
Profit distribution is positioned as one of the company's most important tasks. The company's basic policy is to pay appropriate dividends in a stable and continuous manner, while securing the internal reserves necessary for business development and strengthening the management base. The Company intends to pay dividends in line with its performance in the future.
Return Policy
MIRARTH HOLDINGS regards the return of profits to shareholders as one of the company's top priorities. Based on this principle, we will continue to pay stable dividends in line with our performance, while ensuring appropriate internal reserves, which are important for continued further growth.
Dividends Actual/Forecast
The basic decision regarding dividends is based on a comprehensive approach, including the dividend on equity ratio (DOE) and dividend yield, without being biased towards the dividend payout ratio alone. We want to create a company that is attractive to shareholders who hold their shares not for the short term, but for the long term, and with stability, as well as for shareholders who have held their shares for a long time despite fluctuations in share prices.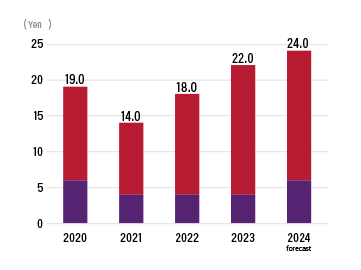 Dividend per share
Year-end dividend
Interim dividend
Information for Shareholders
Fiscal yearend
March 31
Registration for dividends
Shareholders registered as of March 31 are entitled to yearend dividends
Shareholders registered as of September 30 are entitled to interim dividends
Annual general meeting
June
Trade lot unit
100 shares
Registrar
Sumitomo Mitsui Trust Bank, Limited
1-4-1, Marunouchi, Chiyoda-ku, Tokyo 100-8233, Japan
Contact
Sumitomo Mitsui Trust Bank, Limited
Stock Transfer Agency Business Planning Department
2-8-4 Izumi, Suginami-ku, Tokyo 168-0063, Japan